IAFF Burn Foundation
Donate to the Burn Foundation:
The International Association of Fire Fighters Burn Foundation is dedicated to burn prevention and education, burn research, and improving the quality of life for burn survivors.

Created in 1982 as a nonprofit, tax exempt, organization affiliated with the IAFF, the Fire Fighters Burn Foundation is now the largest non-government source for burn research grants and the sponsor of the annual IAFF National Children's Burn Camp, held each fall in Washington, D.C.

Fire fighters recognize that burn injuries are one of the worst insults that can be inflicted on the human body. Because of the nature of their jobs, professional fire fighters and emergency medical personnel are often the first to come into contact with those who have suffered burn injuries. They take a personal interest in survivor treatment, rehabilitation and return to a normal life. IAFF members provide millions of dollars in funding to hospital burn centers and other burn-related activities.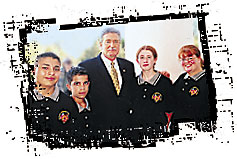 This is also why they have taken the lead in supporting the IAFF Burn Foundation and dozens of regional burn foundations and burn camps. The IAFF Burn Foundation takes a total approach to burn injuries, encompassing prevention, treatment, research and help for burn survivors.

The Foundation has donated more than $2 million to burn research that has resulted in measurable improvements in burn treatment techniques and in the quality of life for burn survivors of all ages.

The Foundation's Board of Medical Advisors, comprised of five internationally recognized physicians specializing in burns, assists the foundation in the grant review process.

The IAFF National Children's Burn Camp has earned a national reputation over the last decade.

Each year, the foundation draws a young burn survivor (ages 13 to 15) and a professional fire fighter/camp counselor from each of the more than 40 regional burn camps across the United States and Canada. They are brought to Washington, D.C., for a week-long, once-in-a-lifetime trip to "national camp," where they tour the monuments, memorials, and museums; visit the White House and the Capitol; meet national leaders; spend time with local fire fighters; and have a lot of fun.

The IAFF Burn Foundation also provides funding and assistance for adult burn survivor retreats, educational workshops for burn camp directors and counselors, burn prevention and education materials, and direct financial assistance to regional burn camps and other burn-related activities, based on need.

The IAFF Burn Foundation is governed by a five-member Board of Trustees chaired by IAFF General President Harold A. Schaitberger. Its office is located at IAFF headquarters in Washington, D.C.

The IAFF and its 263,000 members understand better than most that there is a tremendous need to provide funding and assistance to help the more than 2.5 million people, mostly children and the elderly, who are burned each year.

This is why the IAFF formed the Fire Fighters Burn Foundation and why IAFF affiliates, individual IAFF members, and other concerned citizens and businesses continue to support the work of the Foundation through their generous contributions

Professional fire fighters and paramedics and their IAFF affiliates are the largest contributors to the Fire Fighters Burn Foundation. A number of businesses and corporations also provide funding.